Normal
0
false
false
false
EN-AU
X-NONE
X-NONE
MicrosoftInternetExplorer4
Amphibromus Nees, London J. Bot. 2:
420 (1843).
Derivation:.
From Greek amphi (both sides or double) and bromos (oats),
alluding to its doubtful relationship with Bromus.
Taxonomic
revisions, nomenclatural references:. S.W.L.Jacobs and L.Lapinpuro, Telopea
2: 715–729 (1986).
Key references
(keys and floras):. G.Bentham, Flora Australiensis 7: 589 (1878);
C.A.Gardner, Flora of Western Australia 1 Gramineae 34–36 (1952);
J.C.Tothill and J.B.Hacker, Grasses of Southern Queensland 92–93 (1983);
L.Lapinpuro, Flora of South Australia 4:1907–1908(1986); B.K.Simon, Key
to Australian Grasses 64–65 (1993); S.W.L.Jacobs and L. Lapinpuro,Telopea
2: 715–712 (1986); S.W.L.Jacobs and S.M.Hastings, Flora of New South Wales
4: 596–597 (1993); N.G.Walsh, Flora of Victoria 2: 444–448 (1994); D.I.Morris,
Student's Flora of Tasmania 4B: 231–234(1994); E.Edgar and
H.E.Connor, Flora of New Zealand 5: 297–299 (2000); D.Sharp and
B.K.Simon, AusGrass (2002); J.P.Jessop, Grasses of South Australia 195–
200 (2006); S.W.L.Jacobs, R.D.B.Whalley & D.J.B.Wheeler, Grasses of New
South Wales, 4th Ed, 117–119 (2008); A.Wilson (ed.), Flora of Australia 44A:
Poaceae 2: 130–136 (2009).
W.D.Clayton &
S.A.Renvoize, Genera Graminum (1986), genus (458).
Native. 12 species,
from Australia, New Zealand and South America. 10 species in Australia, WA, SA,
Qld, NSW, Vic, and Tas. Also New Zealand.
Habit.
Perennial, rhizomatous or tufted or decumbent. Leaf blades narrow. Ligule an
unfringed membrane. Hidden cleistogenes , when present, in leaf sheaths.
Inflorescence.
Inflorescence paniculate, a spike-like panicle, open (narrow, elongated), not a
compound pseudo-inflorescence.
Spikelets.
Spikelets laterally compressed, more than 2 flowered to 2 flowered, with 2 or
more fertile florets, awned, solitary, pedicelled; with naked rachilla
extension. Fertile spikelets disarticulating above glumes, with conventional
internode spacings or with distinctly elongated rachilla internodes between
florets.
Glumes. Glumes
more or less equal, shorter than spikelet, shorter than adjacent lemmas,
pointed or blunt, awnless, keeled (slightly) or non-keeled, similar (upper
glume broader). Lower glume 1–5 nerved. Upper glume 3–7 nerved.
Florets.
Fertile florets 2–10. Lemmas bifid or 4-toothed, decidedly firmer than glumes,
not becoming indurated (firm), incised, awned, without a germination flap, 5–7
nerved, glabrous. Awns 1, dorsal, geniculate. Palea relatively long to
conspicuous and relatively short, 1 nerved or 2 nerved or nerveless, 2 keeled
(the keels ciliate) or not keeled. Lodicules 2. Stamens 3. Grain small. Hilum
long-linear. Embryo small.
Kranz Anatomy.
C3.
Habitat.
Helophytic, mesophytic.
Classification.
Pooideae; Poeae.
Notes. Placed
in synonymy with Helictotrichon by Clayton and Renvoize (1986) -
"the Australian species are sometimes segregated as Amphibromus on
accounts of their glabrous ovary, but this alone seems an inadequate basis for
generic separation." Cleistogamy is fairly common in Australian species
(Jacobs and Lapinpuro, 1986).
Types Species. A.
neesii Steud.
Biogeographic
Element. Clifford & Simon 1981, Simon & Jacobs 1990: SAm-NZ.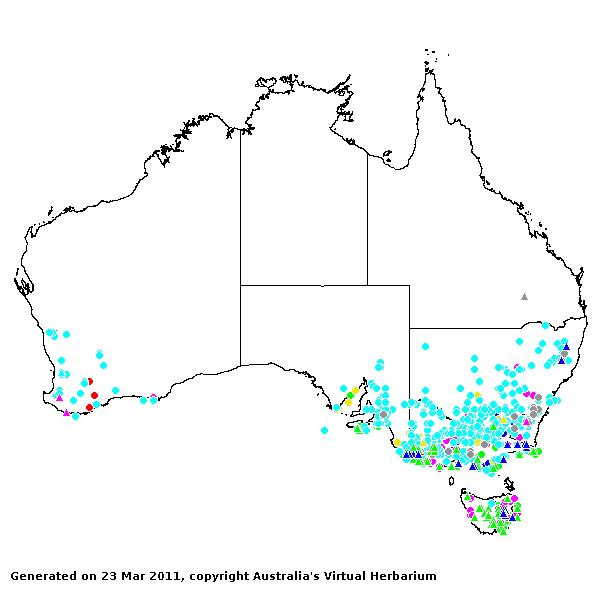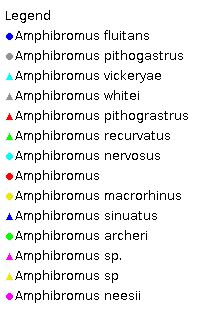 Normal
0
false
false
false
EN-AU
X-NONE
X-NONE
MicrosoftInternetExplorer4
Amphibromus
archeri* (Hook.f.) P.Morris. Victorian
Naturalist 51:146 (1934). Classification. (GPWG 2001) : Subfamily Pooideae.
Tribe Poeae.
Common name:
Pointed Swamp Wallaby Grass.
Basionym and/or
Replacement Name:  Danthonia
archeri Hook. f. Flora Tasmaniae 2: 122, t. 163B. 1858.
Type of Basionym or
Protologue Information: ST: Archer 28, Australia: Tasmania: Cheshunt
(K(central culm only); ILT: NSW). LT designated by Jacobs & Lapinpuro, Telopea
2: 726 (1986).
Recent synonyms:
A. archeri var. papillosus P.Morris.
Key references
(books and floras): [2002] D.Sharp & B.K.Simon, AusGrass, Grasses of
Australia, [2006] J.Jessop, G.R.M.Dashorst, F.M.James, Grasses of South
Australia (195), [2009] A.Wilson (ed.). Flora of Australia, Vol 44A.
Poaceae 2 (134).
Illustrations:
[2006] J.Jessop, G.R.M.Dashorst, F.M.James, Grasses of South Australia  (196, fig. 144), [2009]. A.Wilson (ed.),
Flora of Australia 44A: Poaceae 2 (135, Fig.20).
Derivation: in
honor of William Archer (1820–74), English-born Tasmanian botanist.
Habit.
Perennial. Culms erect, 60–120 cm tall, 1–3 mm diam., 2–4 -noded. Mid-culm
nodes glabrous. Leaf-sheaths smooth. Ligule an eciliate membrane, 4.5–12.5 mm
long, acute. Leaf-blades flat or involute, 15–32 cm long, 2.5–5 mm wide.
Leaf-blade surface smooth or scaberulous, indumented.
Inflorescence.
Inflorescence compound, a panicle or a panicle. Panicle 15–35 cm long.
Spikelets.
Spikelets pedicelled. Fertile spikelets many flowered, with at least 2 fertile
florets (3–7), comprising 3–7 fertile floret(s), with a barren rachilla
extension or with diminished florets at the apex, oblong, laterally compressed,
12–18 mm long.
Glumes. Glumes
similar, thinner than fertile lemma. Lower glume lanceolate, membranous,
keeled, 1-keeled, 3–5 -nerved. Upper glume elliptic, 6.4–9.2 mm long,
membranous, keeled, 1-keeled, 5–7 -nerved. Upper glume apex muticous or
mucronate.
Florets.
Fertile lemma 6–8 mm long, without keel, 7 -nerved. Lemma apex dentate, awned,
1–5 -awned. Median (principal) awn dorsal, 14.5–18 mm long overall, with a
twisted column. Column 5–7.5 mm long. Lateral lemma awns present. Lodicules
present. Anthers 3. Grain 1.7–2.2 mm long.
Continental
Distribution: Australasia.
Australian
Distribution: South Australia, Victoria, Tasmania.
South Australia:
Flinders Ranges, Northern Lofty, Southern Lofty, Kangaroo Island,
South-eastern. Victoria: East Gippsland, Gippsland Plain, Grampians,
Midlands, Otway Plain, Wannon. Tasmania: North East, Central Highlands,
Midlands, East Coast.
Notes. Endemic.
In damp areas such as lagoons, waterholes and swamps, often on predominantly
sandy soils.